About Aussie Palm Clean
The concept of Aussie Palm clean came about in 2009 as a result from my own need to remove a very heavy seed pod from a palm tree. The pod had forced a frond to apply extreme pressure to the power line to my home. After a trip to the local mower shop to purchase an extendable chain saw along with a 5m ladder, the pod was removed, it turned out to be a very awkward and (in hindsight) unsafe operation.
Over the next few years I continued to manage my 12 palms, until the palm trees got too high and ladders were no longer an option. What to do?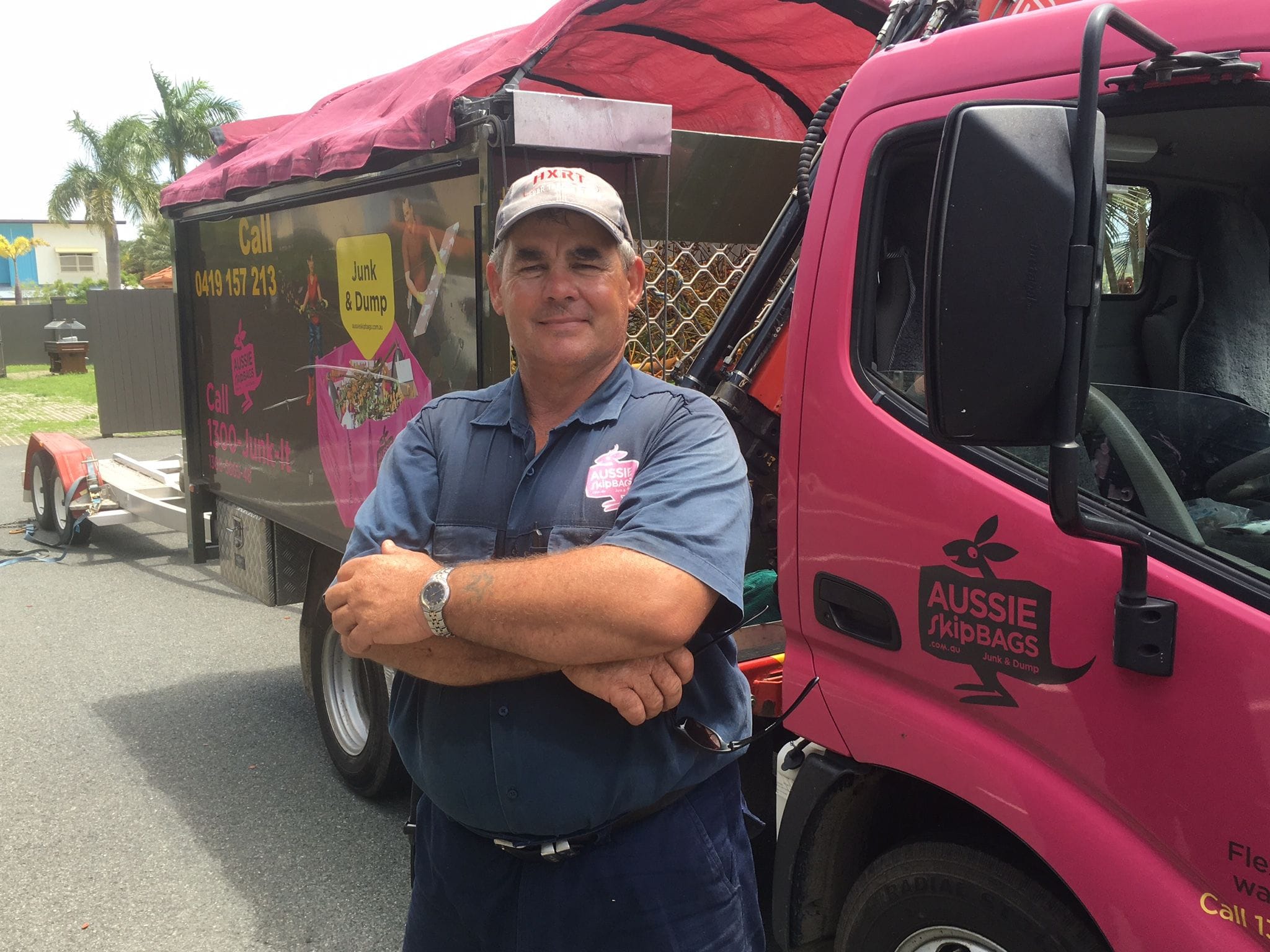 My options were to remove palms and lose privacy and shade, hire a Elevated Work Platform [EWP] or purchase equipment to climb the trees. I hired a tow behind EWP to clean the palm's as removal was not an option. It was difficult to position the machine by reversing a car with EWP attached to a tow-bar (try it sometime).
Persistence payed off (even though it took twice as long as planned). The use of a EWP proved to be the most effective was the way to do it, so next time I upgraded to hiring a self propelled machine. The machine hire was double the cost and the machine was four times heaver (requiring a tilt tray to deliver it), but job was completed in no time at all. I looked into a self propelled machine that could be transported by car and although they existed there were none for hire. As luck would have it, on one of my trips to a auction house with damaged cars I saw a trailer mounted self propelled EWP. it was eventually put up for sale, so I acquired it.
It was my belief that like myself, lots of Mackay residents, enjoy tropical palms in the yard and the subtle shade they provide without killing the grass. But also like myself, hate the sight of dead fronds & messy seed pods hanging and falling, as well as dangerous coconuts overhead when palms get to high to reach with extendable garden tools. Operating machinery is not an option for most, so Aussie Palm Clean was created to provide an affordable annual or bi annual palm cleaning service for palm lovers.
---
Greg Fisher Director
Greg is a third generation local born in Proserpine, He completed his schooling at Christian Brothers College and St Patricks primary in River Street Macaky. Greg worked in many different roles around Mackay and the role that applies to Aussie Palm Clean is access equipment. He was the Queensland Business Development Manager for Monash Hire and in this roll managed approximately 2million dollars worth of access equipment. Most of that equipment were Elevated Work Platforms [EWP].

The purchase of his current EWP is the backbone of Aussie Palm Clean as it provides access to confined places and platform height to clean the rubbish from the top of palm trees. Greg also has competency in the safe operation of EWP'S, working at heights and chainsaw operation.
Even though most the palm cleaning work Greg does is with a hand saw he is fully insured for all job situations. Greg believes in delivering value for money and if that can't happen he will not take on the job. Greg loves being a permanent resident of Mackay and able to be contacted long after the job is complete.
Contact Greg your local bloke 0419 157 213